Mondays are chemo-appointment day. They do blood work, change the batteries in the pump, give me a full week of poison 5-FU for the pump to pump, replace the catheter from the pump to my port, I see the doctor and nurse practitioner, and then go on to radiation to get intimate with TrueBeam, my gazillion megawatt girlfriend.
I arrive at 8:15 AM for my 8:30 appointment. I am scheduled to first see the doctor and the NP. At check-in I am sent to the treatment area, not sure why and I don't want to miss the doctor. Although I tell them about the schedule, they take my blood pressure, weight and height (I guess they worry my height will change weekly … I am more worried about my radiated length). Then I sit in the comfy chair.
One nurse comes by to take my blood from the port … but my catheter and pump are still attached. Then she gets in a discussion with another nurse as to why they are only doing a basic Complete Blood Count. At this point my chemo nurse (and one day there will be a very long post about her) comes in and says to me "Didn't we decide to take your blood work from your arm?" to which I answer "You did, yes, but no one is asking me anything." Then a third nurse decides to take my blood and asks why they don't just do a finger stick. I repeat that I am to see the doctor at 8:30. It is 8:40 and I don't really give a shit how they take my blood. Or what they need to test for. Obviously they are not sure. But no worries, I am the one with a fucking cancerous tumor in my colon.
I go back to the waiting room and then get called in. I have not seen the nurse practitioner for a few weeks, I like her, and it is great to see her today. She then tells me the doctor cannot see me, he was called to another part of the hospital. I just rolled my eyes and told her that I was already very aggravated, this does not help. I spend a bit venting to her; she seemed surprised at some of what I was telling her. I told her about the friendly enema situation, about the random techs, the apparent complete lack of communication among the staff (blood from port? arm? finger? CBC? full chemistry?) and how although sympathy abounds there are no hints at empathy. We discuss my meds, my mood, my stool, my ejaculations, my sun worshiping, my itching, etc. … you know, all the topics one discusses on a first date. She takes copious notes (or doodles, I could not see). I actually like her a lot, I trust her opinions and knowledge, and she does show empathy. And humanity. I am still perturbed that I had to leave her with some questions to ask the doctor, who, did I mention, could not make the appointment?
I go back to the comfy treatment room to have the catheter replaced, etc. I have been dealing with itching around the site for a while. Not over the port itself, but more under the tape. The port area must stay covered to 1) hold in the catheter and 2) keep the area clean and dry. I really don't want an infection around the needle.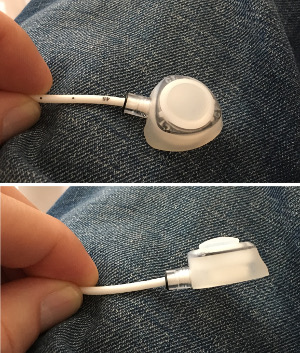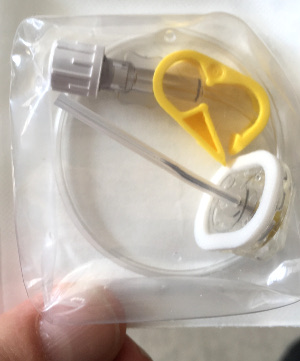 Did I say "needle"? Here are two views of the same type of port, the device under my skin. And here is the catheter and needle. You can see the needle within the plastic tube/sheath. It looks rather long to me.
No one is sure what to try to stop the itching I am having, so they call in the big guns. Her card says "RN, BSN, VA-BC" and "Parenteral / Enteral and Venous Access Consultant, Nurse Coordinator CVL Service, Patient Care Services." She is the self-proclaimed "Port Authority."
At that point I had my shirt off and she was standing in front of me staring at the area. Not saying anything, not touching, just studying it.
Now I know how women feel when someone is starring at their chest. My eyes are up here.
She smiled and kept studying. There was a short consultation with my chemo nurse and then a plan. The big question is what is causing the itching. Is it the tape, the Tegaderm (or newer fancy-shmancy IV Clear), the skin cleaner, the skin protectant, or is it all in my head? The new covering tries to avoid the area that itches, can you find it?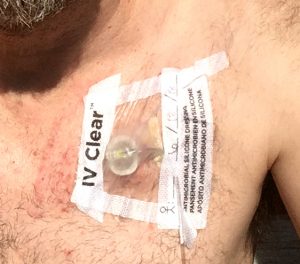 Then it is off to radiation where they have a bit of an issue positioning me again, but finally I am irradiated and I get to go home. Irritated and irradiated, three and a half hours later.
Eleven radiations down, seventeen to go.
Twenty-four more days of chemo.
And yes, my nuts still hurt.