I had my weekly appointment with the oncologist (the incredible Dr. P) and the great nurse practitioner. Somehow the subject was on me and I said …
… and I have this poison going through me all the time …
at that point the nurse practitioner interrupted …
You cannot think of it that way. We have a patient who calls her pump "Mr. Poison" and …
I stopped her.
I know this is my best chance at staying alive. I understand this is being used as medicine and I come here voluntarily and let you hook me up. I get all that. And at the same time it is making me sick, causing me all sorts of discomfort, and is messing up more than just the cancer cells. I am not obsessed that it is just poison, but I am realistic that that is what it is.
I think we have another case of "never been in my shoes, have you?" on a physical level. Let's take a look at one of the first things handed to me when I got the pump and poison chemo.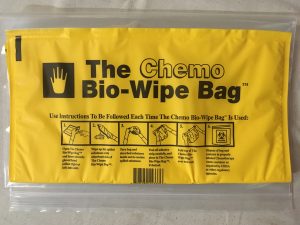 A bit scary. I asked the chemo nurse (who, I am not sad to say, I am no longer assigned to) if this was necessary since I am only getting 1/5 of a teaspoon (1 ml.) an hour, not much will really spill. She clearly said yes, it is needed for any amount.
Ok, let's look at some of the instruction, they are inside, with a pair of blue gloves.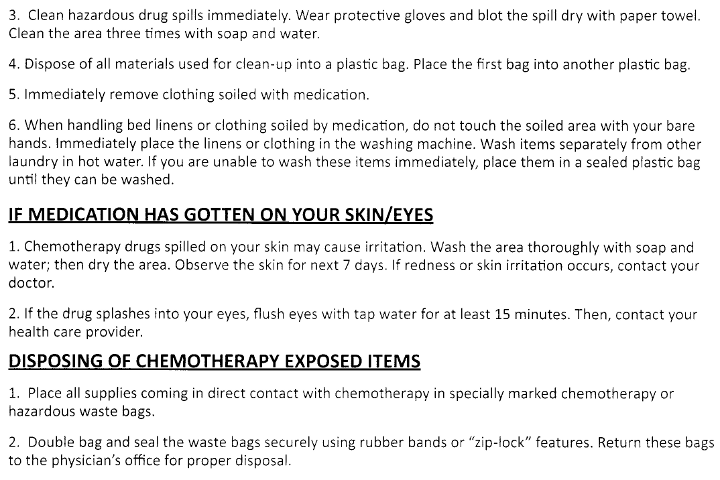 Can't imagine why we patients get the impression that this is poison.
Let's call the whole thing off.